In Vietnam, tourists will be overwhelmed by abundant delicious dishes with a large number of nutrients. For many locals, this includes dishes prepared with a wide variety of creatures, even insects.
Today, Vinh Guru's blog is going to show several weird cuisines existing in some areas in Nghe An.  
Silkworm's Pupa 
An exotic meal is prepared from silkworm pupa after the silk is taken from its cocoon. The dish is a bit shocking at the first look, but your perception may change after you enjoy its buttery taste as it is melting in your mouth. When talking about eating larva, most of the people are still hesitant, but whoever has had the chance will want to enjoy it one more time. Not only the good taste, but also it contains quite a lot of good nutrients for human health, can promote children's growth, and is antirachitic (prevents constipation).
Ant soup
Basically, it is the same as other soups, however, it is cooked with eggs and ants. 
This dish is only in the Thai community in Western Nghe An. The red ant that lives only in broad canopy trees, along streams or in old forests is the important ingredient. With a sweet and sour taste, ant egg soup is also a cooling dish in the hot summer days of Thai people.
Scorpions
All scorpions have a venomous sting, but the vast majority of the species do not represent a serious threat to humans. In most cases, healthy adults do not need any medical treatment after being stung. With the unique taste and master skills of locals, scorpions become a local specialty of the Nghe An.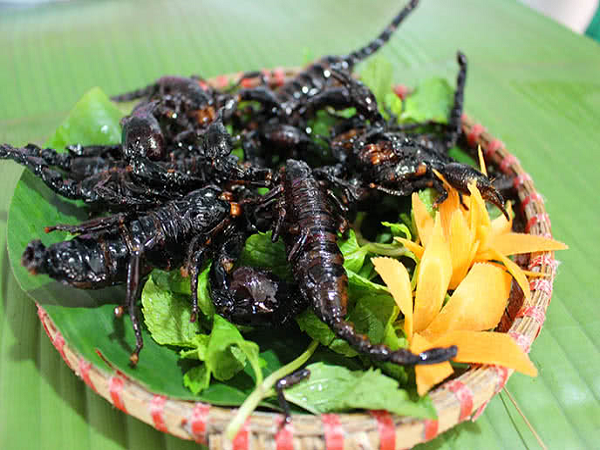 Tadpoles
Tadpoles are a favorite dish of the ethnic minorities in Nghe An. Tadpoles can be an ingredient in a lot of dishes such as sour soup with bamboo, sausage, and others. This is a traditional cuisine prepared by Kho Mu people for their guests.
Despite the strange and creepy initial appearance, these dishes still are a part of our featured culture and make a lasting  with tourists. Let's try and discover them with Vinh Guru.