Located on former Ho Chi Minh Trail track in Nghia Dan District in the central province of Nghe An, the Vietnamese dairy firm TH True Milk sunflower field has become popular among young people seeking a stunning landscape since 2010.
A magnificent array of tall sunflowers line the path through the 30-ha field. These wildflowers with 20-centimetre blossoms turn the field into the biggest sunflower farm in Viet Nam.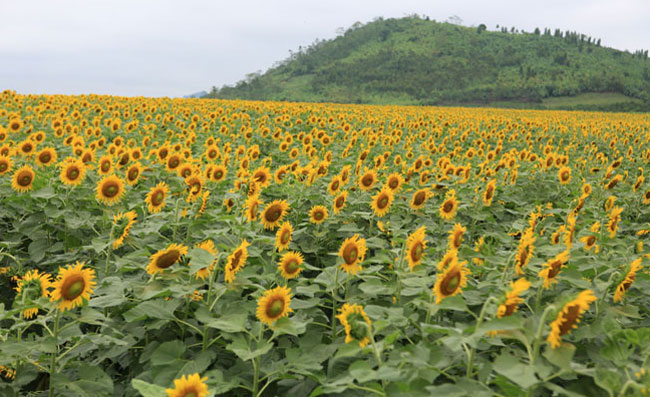 Signaling the end of summer, sunflowers bloom. They are probably the world's cheeriest flower. Standing in a field of more than a million sunflowers, you can't help but feel optimistic.
The sunflower blooms in two seasons: in April and between November and December. Since the first sunflowers started to bloom, thousands of people including locals and residents from other cities have come to Nghia Dan District to enjoy the flowers, even in winter.
Only one type of sunflower is needed to provide this area a mosaic of colours: mustard, canary yellow and green.
Everywhere you look there is a perfect photo opportunity and smiling faces in the field. The prospect of sunshine is enough to put a smile on most faces – but now it seems the same is true of flowers.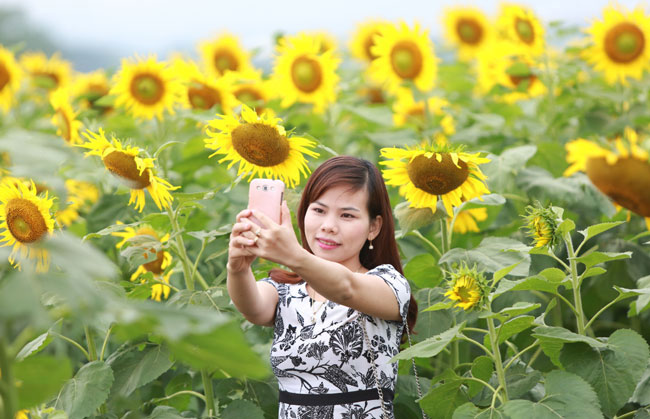 Sunny selfie: Many young people from cities travel a long way to take pictures with sunflowers
While Nghe An Province has been famous for droughts and a harsh climate, this spectacular landscape is not just a visual treat, but something more.
Sunflowers are an entirely edible plant and cultivated as the main protein source for livestock in the area. The entire trunk, branches, flowers, leaves will be chopped and mixed with plenty of different ingredients to create dairy cows' feed. This helps them produce more milk and the value of protein is about six to eight per cent higher than maize.
According to the representative of the dairy firm TH True Milk, the sunflowers are interspersed with maize fields and American grass. This was also the first time they planted sunflowers as dairy cows' feed under the instructions of Israeli agricultural experts.
After every two crops of maize and sorghum, the agricultural experts grow sunflowers in order for good crop rotation.
December is an excellent time to walk through the wild sunflower field. It is free of charge for taking photos, parking and drinking water is free.
The field was carefully arranged into rows of flowers, creating an easy entrance for visitors. If you want a panoramic view, you can rent a ladder priced at US$1.5/hour.
This year, sunflowers were planted alternately to prolong the blooming season for more than a month, from November until January.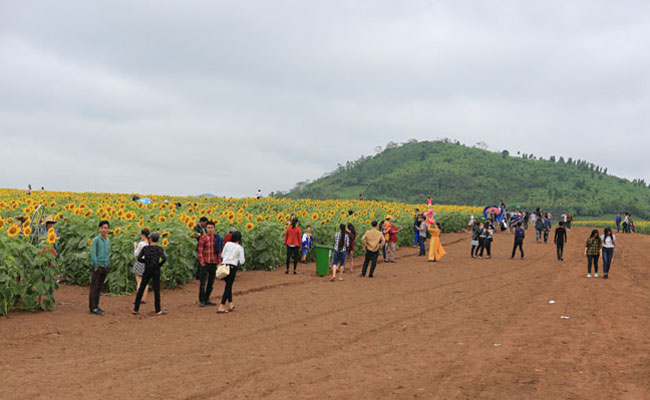 Shining bright: The biggest sunflower field in Viet Nam welcomes thousands of visitors each year
"We decided to take our wedding photos in this biggest sunflower farm since it costs nothing and you could not find the same large sunflower field anywhere but here," a local couple said.
Due to the high number of visitors, the farm managers tried to co-operate with Nghia Dan District People's Committee to ensure security for tourists and restrict locals from charging them additional fees.
The project by TH True Milk has blossomed throughout the district with thousands of flowers, spurring deeper connections between people in this area and the rest of the country.
Nguyen Thu Phuong, a visitor from Ha Noi, said: "It's worth travelling a long way to be at this wonderland. It's not just the masses of flowers but the hospitality of the locals made me feel comfortable."
Nghia Dan District is about 250 km from Ha Noi. Apart from the sunflower field, you can also visit President Ho Chi Minh's native home, Hoang Muoi temple and many local specialties. — VNS